EnRoute Duet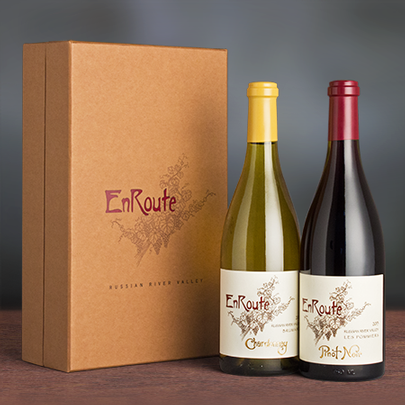 Our flagship EnRoute Chardonnay and Pinot Noir come together in this beautifully boxed two-bottle gift. Named for the fog that gently envelops our Russian River Valley vineyards, the EnRoute Chardonnay, "Brumaire," leads with a beautifully fruit-floral perfume and finishes with bright acidity and crushed mineral notes. In the middle is a creamy texture that lends richness without weight.
A distinguished collection of Russian River Valley vineyards come together to create the backbone for our EnRoute Pinot Noir, "Les Pommiers." Silky, with rich fruit tamed by graceful tannins, subtle earth and floral nuances, this Pinot captures everything we love about the extraordinary Russian River Valley appellation.
A compelling, modern classic.
2014 EnRoute Chardonnay, Russian River Valley, "Brumaire"
2014 EnRoute Pinot Noir, Russian River Valley, "Les Pommiers"